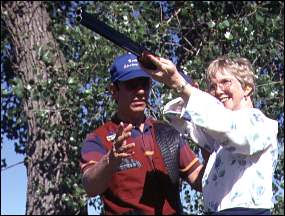 Learn to shoot. Reach your full shooting potential.
The National Wing & Clay Shooting School and the Northwest Wing & Clay Shooting School provide shotgun shooting instruction for upland bird and waterfowl hunters and for clay target shooters and competitors. We offer instruction that will make you proficient at sporting clays, 5-stand, trap, skeet, FITASC, and all clay target shooting sports. Hunters will dramatically improve their hunting success for pheasants, chukar, quail, ducks and geese. Learn to pass shoot waterfowl and doves and hit all flying game.
We teach men, women and youngsters, new shooters and advanced shooters the fun of wing and clay shooting for target and hunting, and give instruction in all shooting methods for clays and bird hunting.
We offer private and semi-private instruction, one day and multiple day shooting clinics, corporate shooting events, and group shooting instruction. We arrange special shooting events for corporate or group outings. We also give "how to" shoot seminars nationwide and abroad. We will host a shooting clinic or school in your area.
Whether you hunt waterfowl, upland birds, or wish to learn the fun and excitement of sporting clays, the National Shooting School and the Northwest Shooting School provide expert and fun instruction for all ages.